Scrumpy & Western News 2010
also see old news archives from 2007, 2008 and 2009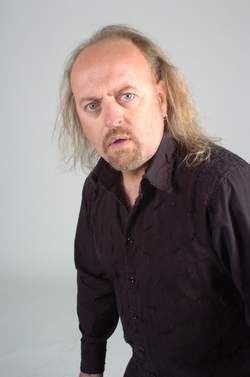 Bill Bailey to Tour Down Under; Bristol Date Rearranged [posted 9th April 2010]
Following his hugely successful 2008 Australian / New Zealand live tour of his hit show Tinselworm, Bill returns down under with his brand new live show, Bill Bailey Live 2010. Kicking off on Friday 25 June 2010 in Christchurch, the tour will take in Wellington, Auckland, Newcastle, Perth, Adelaide, Brisbane, Launceston, Hobart, Melbourne and Sydney, before culminating in Canberra on Friday 30 July 2010.
Bill has also changed the date of his summer show at Ashton Gate Stadium, home of Bristol City Football Club, to Saturday June 19th due to requests from fans. Bill has received numerous messages from people up and down the country unable to attend the West Country show in its original midweek slot. But he has now found time in his busy schedule to rearrange the event so even more of his loyal fans can attend what will be the biggest show of the his career to date. Bill says: "Looking forward to seeing the West Country massive. Saturday night – should be a rocking gig".
Seats are still available priced £20-£30 and can be purchased online at ashtongatestadium.co.uk, seetickets.com or ticketmaster.co.uk; or by phoning the stadium hotline 0871 222 66 66 (option 1, and then option 2 listening out for "concert tickets"). Tickets can also be purchased in person at the stadium in advance. Tickets bought for the original date of Tuesday June 15th are valid for the new date. Should any ticket-holder be unable to make the new date they should contact the ticket agency where the original purchase was made for a full refund.

to top of this page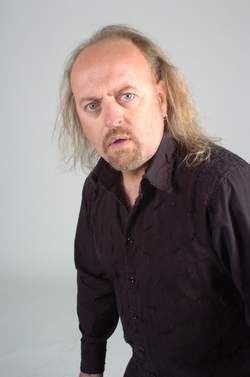 Bill Bailey To Play Ashton Court - on sale today! [posted 9th April 2010]
Tickets for Bill Bailey's Bristol Bash have gone on sale today; as well as for his tour of Scotland and North West England.
We can confirm that Bill will be playing at Ashton Gate Stadium - the home of Bristol City Football Club - on Tuesday, June 15th 2010. A total of 15,000 tickets go on sale from 9am Friday (April 9th) priced between £30-£40. Seats can be purchased online at www.ashtongatestadium.co.uk or www.seetickets.com; or by phoning the stadium hotline 0871 222 66 66 (option 1, and then option 2 listening out for "concert tickets").
Raised in the West Country, the Ashton Gate show will be a real homecoming for Bill. He says: "Performing at Ashton Gate is a great thrill for me, because it's a combination of two of my favourite elements in a show - it's outdoors and it's in the West Country.
"I always feel that any shows I do in the West Country are homecoming gigs. But there's also something special about doing a show outdoors in England. I've played to outdoor crowds at the Glastonbury Festival and recently at the Eden Project, and there's always a terrific atmosphere, almost anarchic, which I really enjoy."
He says the Bristol show will include references to nuclear power, beetles, the future of the internet, worms, hawks and Lady Gaga; "basically a guide to modern living and the all important musical marriage of Kraftwerk and The Wurzels".
Tickets will sell fast (and are probably already half sold out when you read this!), so grab them while you can. And seeing Bill live is an experience you will not want to miss. He's damned good on the TV, but he is superb live!
Check the gig guide for full dates, prices and times (where we have them) and links to ticket agents.

to top of this page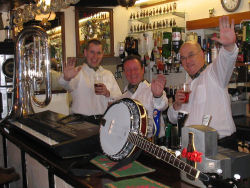 Cutlers Release Their Ninth Album! [posted 1st April 2010]
The Cuutlers of Crnwall have released a new album; their ninth release in the short but frenetic life!
Old Songs For Young Heroes was released this week in order to raise some funds for Help For Heroes and The Royal British Legion. The album contains 25 songs on 18 tracks, and is available as Download through CD Baby for a mere $6.99 (approx £4.50). The band have undertaken to donate $1.00 to Help For Heroes and a further $1.00 to the RBL to be used for the care of wounded soldiers. The good news is that Stephen Smethurst of the Legion Magazine is doing a spread on it during late summer which will bring it to the attention of over 370,000 readers!
The track listing is Long Way To Tipperary / Pack Up Your Troubles, Tulips From Amsterdam / Down At The Old Bull And Bush, The Marrow Song, Beautiful Doll / Side By Side, Beer Barrel Polka, Keep Right On To the End of the Road, Bye Bye Blackbird, Coming On By Degrees / The Grasshopper, Daisy Daisy / I'm Forever Blowing Bubbles, Down By the Riverside, Swing Low Sweet Chariot, Follow the Van / Any Old Iron / I'm Getting Married Medley, Gilly Gilly, The Happy Wanderer, Marzey Doats, Molly Malone (Cockles and Mussels), You Are My Sunshine, Show Me the Way To Go Home. You can listen to an mp3 clip of The Marrow Song taken from this album.
The album is also available on CD priced £10.00 including worldwide post and packaging, and can be ordered from Old Songs For Young Heroes CD, 7 Bosawna Close, St Day, Cornwall, TR16 5LB; cheques made payable to "G Woods".
The Cutlers have also been nominated for the UK Country Radio Music Awards 2011 for the second year in a row, and are busy hustling for votes. They just missed it last year, if you want to vote - here is the link: http://www.ukcountryradio.com/award2010.html. Vote for "Ole Country Boy"; please vote only once or the counter will refuse your vote.

to top of this page

Singer Fred Wedlock dies, aged 67! [posted 4 March 2010]
The Bristol entertainment scene is mourning the passing of Fred Wedlock – The Oldest Swinger In Town – who has passed away at the age of 67.
A prolific songwriter, Mr Wedlock had been a familiar name on the Bristol scene for more than 40 years – producing a raft of popular comedy folk ballads, as well as fronting television and radio programmes.
He leaves behind Sue, his wife of more than 40 years, and his two daughters, Hannah, who is herself a singer with the Blue Notes Jazz Band, and TV producer Lucy. The family were inundated today with calls of consolation at their home in the village of Timsbury, where the singer was a well-loved character.
"It's a very sad day for our family," Hannah said. "My father had been ill for a few weeks, and was being treated for pneumonia at the RUH in Bath. But at six o'clock on Thursday morning he suffered a cardiac arrest. It was very quick and peaceful. Though we have not yet made any firm funeral arrangements, my mother would like to have the funeral at St Mary Redcliffe church, which is where they were married, and where my father had been the head chorister when he was a child growing up in Bristol."
His family ran a Redcliffe pub, and with typical humour he later recalled his earliest memory was hearing the Luftwaffe's bombers "redesigning the centre of Bristol".
Mr Wedlock came from a long line of local Bristol celebrities. His father and uncle both played for Bristol City, and his grandfather, the famous Billy "Fatty" Wedlock, captained the England team in the years before World War I – the Wedlock Stand at Ashton Gate is named in his honour.
Mr Wedlock was a lifelong Bristol City fan, and was devoted to the city of his birth – priding himself on his love of the local dialect. After an early career as a school teacher in the tough schools of the East End of London, Mr Wedlock went on to teach at South Bristol Technical College, before making his name as a folk singer in the 1970s.
During the course of his long career, Mr Wedlock recorded more than 20 albums of his trademark humorous folk music – with his most famous song, "The Oldest Swinger In Town", reaching number six in the charts in 1981.
Derek Cleverdon, chairman of the Variety Club Children's Charity South West, said Fred was also devoted to charitable causes. "He performed on numerous occasions for the Variety Club, and raised thousands of pounds for us over the years," he said. "He was a wonderful man, and this is a very sad day for everyone who knew him."
Local jazz musician Cass Caswell also paid tribute to Mr Wedlock. "It was with great sadness that I heard our very special friend Fred passed away in hospital," he said.
"Fred had been a nationally known figure ever since his brilliant hit "The Old Swinger In Town" and he had become a great friend and asset to the Variety Club and had cheered up many of our events by performing his entertaining and very funny songs."
[from ThisIsBristol website]

to top of this page